CBD Vaping Devices
From CBD Disposable vape pens to complete vape kits, our range of CBD vape devices features everything you need to safely and conveniently use CBD vape oil with CBD E liquids or why not try one of our disposable cbd vapes we stock.
Choose from a large selection of convenient vape devices, including high quality CBD vape kits designed to fill your vaping needs throughout the day. We also stock a range of lightweight CBD vape pens designed for convenient use while you're on the go.
Many of our vape devices have simple single-button operation, making them easy to use in any environment. With options starting from just £10.99, we have a CBD vaping device to suit every budget.
CBD Devies not suitable for you? Try our CBD Edibles, CBD Oil, CBD Tinctures/CBD Oral Drops, or CBD Capsules for alternative CBD products
Show Filters
CBD Disposable Vape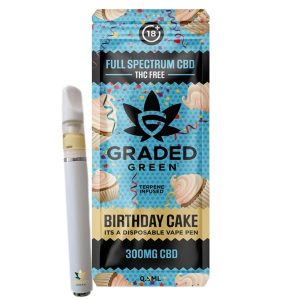 Image Source: cbdoil.co.uk 
Vaping is the most effective CBD consumption method for hastening the cannabinoid's effects onset. A CBD disposable vape is a complete compact, frill-free vaping kit requiring zero maintenance and provides a straightforward way to explore CBD vaping. 
Our extensive CBD vape disposable pen catalogue features products from top UK-based and global CBD brands. From as low as £8.99, the disposable vapes are also available in diverse flavours, including fruity flavours, fizzy drinks, and signature in-house blends. Additionally, disposable CBD vapes featuring terpenes from popular cannabis strains, including Sour Diesel, Birthday Cake, Chocolate Mint OG, and Lemon Ice, are also available.  
The number of vapers in the UK is constantly rising, and statistics show that approximately three million UK adults vape regularly. Vaping is gaining traction in the CBD industry as an effective way of consuming cannabinoids for various reasons. 
First, one study concluded that CBD vaping has almost double the bioavailability of oral CBD consumption because it bypasses presystemic metabolism in the digestive tract. A chemical substance's bioavailability refers to the amount of that substance that makes it to the systemic circulatory system. 
CBD is famous for its purported therapeutic effects. Although other CBD products like edibles are available, vaping enhances CBD's effects. Therefore, below is a breakdown of disposable CBD vapes, their mechanism of action, and their effects on the body. 
What Is A CBD Disposable Vape? 
Disposable CBD vapes are ultra-portable vape cartridges pre-filled with e-liquids infused with CBD isolate or full-spectrum and broad-spectrum CBD. However, e-liquids typically feature secondary ingredients like vegetable glycerin (VG) and propylene glycol (PG) to improve CBD delivery. Moreover, CBD disposable vape UK may also contain secondary cannabinoids, including a THC content not exceeding 0.2%, as stipulated by UK CBD laws. 
Non-reusable CBD vape cartridges provide a convenient way to enjoy CBD while on the go. They feature integrated core elements and user-friendly functional features. 
Such elements include an integrated, precharged battery, eliminating the need for a charger. Second, the non-reusable CBD vapes utilise draw activation or start heating when you take a hit. Draw activation eliminates the need for control buttons that may complicate the vaping process. 
Therefore, although experienced and novice CBD vapers alike can use disposable CBD-filled vapes, they are perfect for new vapers. CBD vaping is a skill requiring mastery and a disposable vape simplifies learning. Lastly, single-use CBD vapes require zero maintenance, meaning you do not need to incur the cost of purchasing maintenance accessories like vape coils and vape juice. Therefore, they are more cost-effective, especially for mild to moderate vapers.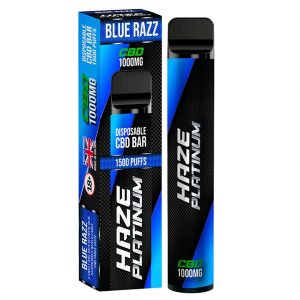 Image Source: cbdoil.co.uk 
Disposable CBD Vapes VS Reusable Vapes 
 Disposable CBD vapes have the following advantages over reusable vapes.
 
They are more user-friendly than reusable vapes because they are preset at the ideal temperature for CBD vaporising. Therefore, they do not feature complicated controls for temperature and airflow controls; such controls can make vaping seem more complex than it is.

 
Non-reusable vapes utilise draw activation, preventing the occurrence of common minor accidents associated with reusable vape devices. Such accidents include pocket firing, whereby the device's activation button turns on while in your pocket.

 

Disposable vapes are light and ultra-portable, facilitating discreet vaping while on the go. Moreover, you do not need to carry bulky accessories like a charger and a bottle of CBD vape juice to enjoy vaping on the go.

 

High-quality CBD disposable vapes are leak-proof since they require zero maintenance. Therefore, the chances of components loosening and causing leakage after taking them apart during maintenance are minimal.

 

Single-use CBD vapes are available in thousands of flavour options, and because they are substantially cheaper, you can purchase multiple flavours at a go.

 
Disposable CBD Vapes Uses, Benefits, And Effects 
Disposable CBD vapes have multiple functional benefits, but their primary purpose is efficient CBD delivery into your system. Therefore, CBD is the star of the show. 
CBD keeps gaining traction in the UK and beyond, thanks to its purported therapeutic benefits. According to statistics, approximately six million UK adults use CBD products. Moreover, the statistical report also highlighted pain management, anxiety, and sleep interventions as the top reasons for CBD use. 
However, the UK government classifies CBD products as food supplements, meaning that while the products must comply with general safety directives, there is little oversight over medical claims. Consequently, some CBD vendors exploit the oversight loophole, pedalling CBD products like vapes and CBD oil as elixirs for countless illnesses. 
Although CBD qualifies as a therapeutic botanical compound, the research on some of its purported health benefits remains in the preliminary stages. Therefore, below are science-backed CBD benefits and effects that a disposable CBD vape pen can help induce. 
CBD Can Aid In Acute and Chronic Pain Management 
Chronic pain is a significant health concern in the UK, with statistics showing that 34% of UK adults suffer from some form of chronic pain. However, CBD is emerging as a potential remedy in clinical pain management. According to one study review, the cannabinoid is a safe and well-tolerated natural compound with analgesic (pain-relieving) properties demonstrated in various animal pain models and human clinical studies. 
For instance, a study on CBD's effect on dogs with osteoarthritis showed a significant decrease in pain and increased activity among dogs with arthritis after CBD administration. Moreover, the study recorded no observable side effects among dogs treated with CBD for osteoarthritis. 
On the other hand, few human studies on CBD's effect on pain are available. However, one study on the impact of inhaled pharmaceutical-grade cannabinoids showed that a CBD-THC combination reduces chronic pain to some degree. 
Although more human clinical trials on CBD's analgesic effects are necessary, the cannabinoid is emerging as a viable alternative to prescription pain medications. Prescription pain medications have undesirable side effects, including developing drug dependency among patients.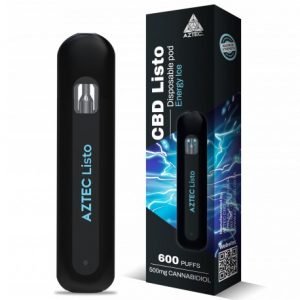 Image Source: cbdoil.co.uk 
CBD Can Help Improve Alleviate Anxiety and Depression Symptoms 
 CBD's potential as an ancillary treatment for multiple mental health disorders, including anxiety and depression, is another key research area. Animal models and human clinical studies demonstrate the cannabinoid's positive effects on anxiety and depression symptoms. 
One research study conducted among male Swiss mice established that CBD induces an antidepressant-like effect similar to imipramine, a synthetic drug for treating depression.  
The theory put forward to explain CBD's antidepressant-like effect during the study was that CBD activates similar receptors to pharmaceutical antidepressants, including the 5-HT1A receptor. Moreover, a review of animal study models used to investigate CBD's anti-anxiety and antidepressant effects established the cannabinoid's efficacy in alleviating anxiety symptoms when used in all animal study models. 
Like with studies on CBD's effects on pain, human clinical studies on the cannabinoid's anti-anxiety and antidepressant effects are scarce but show its potential in managing the said psychiatric conditions. 
One such double-blind, placebo-controlled study entailed participants receiving either 600mg of CBD or a placebo before exposure to images that elicited different anxiety levels. The study's administrators used magnetic imaging resonance technology to monitor anxiety levels among participants as they viewed each image.  
At the end of the study, which featured three rounds of testing, it emerged that CBD lowers anxiety levels by lowering arousal levels in the portions of the brain that process anxiety. Therefore, CBD is a potential alternative to synthetic anxiety and depression treatments like serotonin reuptake inhibitors, which trigger undesirable side effects, including lethargy, agitation, and weight loss. 
CBD Demonstrates Neuroprotective Properties 
Besides psychiatric conditions, CBD research also points to its efficacy as an ancillary treatment for neurodegenerative illnesses like dementia, multiple sclerosis (MS), and Alzheimer's disease. According to one in vitro study, the cannabinoid demonstrates neuroprotective properties when added to specific enzymes in concentrations between 1-10µm. 
Neuroprotection refers to mechanisms, therapies, and processes that protect neural cells constituting the central nervous system against injury or damage. The structural integrity of neural cells is crucial to cognitive functions like learning and mobility. Therefore, neuroprotective agents inhibit molecular pathways that may cause neural cell injury death and help to salvage and rejuvenate damaged cells. 
Multiple animal study modes, including one study conducted using cats, show CBD's efficacy in improving cognitive dysfunction symptoms caused by neurodegenerative illnesses. Moreover, one study review concluded that CBD effectively manages multiple sclerosis symptoms, including fatigue, pain, inflammation, muscle tension, and depression. 
However, animal and human studies on CBD's neuroprotective potential are scarce. Therefore, further research is necessary to validate CBD's efficacy as a neuroprotective agent. 
Image Source: cbdoil.co.uk 
CBD Has Anti Inflammatory Properties 
Inflammation marks the genesis of multiple autoimmune health conditions, including diabetes, obesity, and skin conditions like eczema and acne. Inflammation-induced pathogenesis occurs when there is a lack of balance between pro-inflammatory and anti-inflammatory agents in the body. The excess volatile pro-inflammatory agents attach to healthy body cells, damaging them. 
However, one study review using 26 eligible full-text articles showed that CBD reduces the body's pro-inflammatory cytokine (agents) levels. However, more research is necessary to establish CBD's mechanism of action in delivering its anti-inflammatory effects. 
CBD Can Help Improve Your Sleep Quality 
CBD's impact on healthy sleep patterns is another area of interest in CBD research. Improved sleep is arguably CBD's most thoroughly researched benefit, with studies dating back to the 1970s. The available research on CBD and sleep point to its effectiveness in inducing sleep and helping individuals stay asleep.  
According to one study conducted among insomnia patients, CBD has a sustainable positive effect on sleep patterns. During the two-month study, sleep scores collected at the beginning and throughout the study showed that 79% of participants reported improved sleep after CBD administration.  
How To Use Disposable CBD Vapes 
Disposable CBD vapes are arguably the most effective method for accruing CBD benefits because they hasten CBD's onset and peak. Moreover, they also have the highest bioavailability of all CBD-infused products. 
Once you acquire your CBD disposable vape pen, you can proceed to take a "hit" as follows.  
Remove the disposable CBD vape kit from its packaging and inspect it to ensure pristine condition.

 

Most disposable vapes utilise breath activation, so proceed to take a draw by inhaling the vapour via the device's mouthpiece.

 

A draw should last approximately three seconds, and hold the inhale for approximately five seconds before exhaling.

 

Vaped CBD kicks in within 2-5minutes and peaks at approximately 15 minutes. Therefore, as a newbie, take one hit and wait for five minutes to feel its effects before taking a second draw.




 
However, note that the CBD potency in disposable vapes varies for different products. Therefore, consider the product's potency while dosing.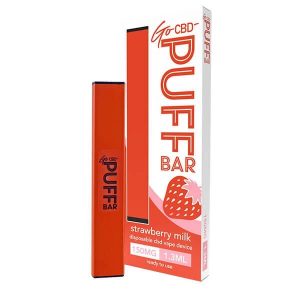 Image Source: cbdoil.co.uk 
Frequently Asked Questions About CBD Disposable Vapes 
Are Disposable CBD Vapes Safe? 
According to one study, vaping CBD is 95% safer than smoking; moreover, CBD is a highly tolerated compound. There are no reports on adverse health cases associated with CBD vaping. 
However, remember that the UK's CBD industry is highly unregulated. Therefore, ensure you purchase the best disposable CBD vape pen UK brands, meeting government-stipulated production standards to ensure product quality and safety. 
Can A Disposable CBD Vape Make You "High?
CBD is non-psychoactive, meaning it cannot make you "high." Therefore, while it may take the edge off by inducing relaxation, it does not alter brain function like THC, the primary psychoactive compound in cannabis.  
Full-spectrum disposable CBD vapes containing the legal 0.2% THC are non-psychoactive because 0.2% THC is a trace amount and cannot trigger psychoactive effects. 
What CBD Dosage Should I Vape From A Disposable Vape?
CBD causes individual-specific effects making it challenging to standardise the doses. Second, the disposable CBD vapes available on the market vary in potency. 
However, CBD products like disposable vapes fall under food supplements, and the Food Standards Agency (FSA) recommends that healthy adults take no more than 70mg of CBD daily. Therefore, you can establish the CBD serving per hit on your disposable vape to adhere to the 70mg limit. 
What Is The Most Potent CBD Disposable Vape?
Most disposable CBD vape pens range from 150mg to 1000mg per 2ml cartridge. 
How Long Does A Disposable CBD Vape Last?
Disposable CBD vape pens last approximately three to five days, depending on the frequency of use and the volume of the draws you take.  
Conclusion: 
Disposable CBD vapes provide the most efficient way to consume CBD and enjoy its therapeutic benefits. Our CBD disposable vape collection features top-grade vape devices at affordable prices. However, you can also view our CBD oils and other CBD-infused collections for more options.